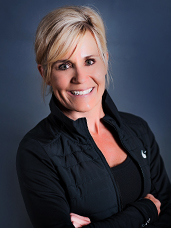 Jen White
406- 581-3576
jen@ridgeathletic.com
Education & Certifications
Bachelor's Degree in Business Management & Minor in Economics – Montana State University
ACE Certified Personal Trainer
Ace Certified Group Fitness; American Red Cross CPR & AED Certified
Specialized Group Fitness Certifications Include: Cycling; Kickboxing; Resist-A-Ball; Bosu; Les Mills BodyAttack; Les Mills CX Worx
I was born and raised right here in Bozeman Montana. I have been active all my life and I have worked in the fitness industry for over 25 years. I am a runner and triathlete, and I believe cross training your body is the key to a lifetime of fitness. My goal as a personal trainer is to challenge and motivate each individual to reach their fitness potential. Good form and proper technique are important to me in order to maximize the benefit of the workout. I want to help individuals understand that fitness and good health take a commitment that lasts a lifetime, and with support and encouragement from all of us at the Ridge Athletic Club, we want to help you to be your best.
I specialize in cardiovascular fitness, strength training, core conditioning, functional training, weight loss, motivation, running, and triathlon training. I want to help clients find something they enjoy with fitness so they will stick with it. Personal training is especially rewarding when exercise becomes life changing for an individual.
"Life Happens ~ Let's Train For It!"