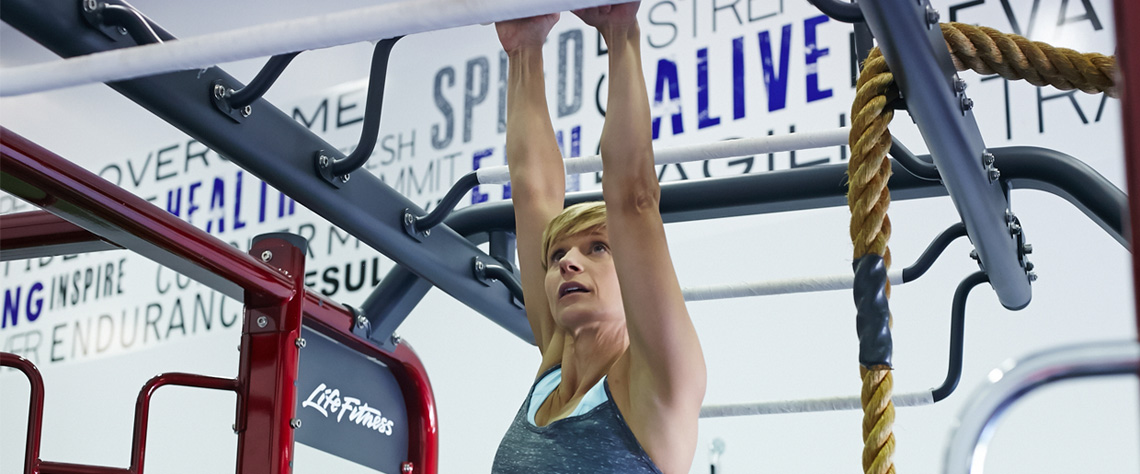 [Young Guns Strength & Speed Club]
Young Guns is an innovative program for young athletes ages 12-18 focused on developing power, strength, size, speed and/or agility through structured off-season and pre-season workouts. Choose between Speed, Agility and Quickness or Strength & Power Hour (or both!)
Speed, Agility and Quickness
M/W | 4-5pm | Nov 5-28 | Fallon location – Basketball Court
Speed, Agility and Quickness will improve speed, multi-directional movement, coordination and reaction time in youth athletes. Areas of training include acceleration, deceleration, change of direction, plyometrics, and safe progressions to reduce injury risk. Perfect for off- and pre-season athletes who are ready to improve their sports performance.
Strength & Power Hour
T/Th | 4-5pm | Nov 6-29 | Fallon location – Ridge X
Strength & Power Hour will provide proper instruction on weight lifting techniques, safety and program design. This program will facilitate development of strength and stability, and reduce the risk of on-field injuries.
$105 Members | $205 Non-Members
Enroll in both programs: $189 Members | $289 Non-Members
---
[Strong Women Levels 1, 2 & 3] Level 1: M/W | 8:30-9:30am | Fallon Weight Room
Level 2: T/Th | 8:30-9:30am | Fallon Weight Room
Level 3: T/Th | 6-7am | Fallon Weight Room

Strong Women was designed by a woman for women to help you achieve full-body toning, improved cardiovascular endurance, and to help target muscle groups not utilized in everyday life. By the end of the program, women will be empowered to strength train with confidence armed with
the best exercises for optimal results.
$85 Members
---
[Winter Warriors] T/Th | 7-8pm | Oct 16-Nov 20 | Fallon location – Gym
Four weeks to the SLOPES! Winter Warriors will prepare you for all your winter activities by combining higher-impact plyometrics, agility, and strength challenges with a special focus on blasting your lower body and core to improve on-the-snow performance.
$85 Members | $210 Non-Members
---
[Ski Shape] M/W | 6:45-7:45am | Oct 15-Nov 21 | Fallon location – Bridger Studio
Ski Shape offers conditioning for winter athletes with low to moderate intensity targeted legs and core exercises. Great for snow enthusiasts who crave an innovative workout focused on endurance and flexibility for all fitness levels.
$85 Members | $210 Non-Members
---
[Triple Play] T/Th | 12:15-1pm | Oct 16-Nov 20 | Fallon location cardio area
M/W/F | 12:30-1:15pm | Oct 15-Nov 16 | Downtown cardio area
Rock your workout with the Triple Play format: 15 minutes of cardio + 20 minutes of weights + 10 minutes of core. Triple Play is a phenomenal, high-intensity, full body workout!
$85 Members | $210 Non-Members
---
[F.A.S.T.] T/Th | 5:30-6:30pm | Oct 16-Nov 15 | Downtown weight room
If you are looking to put on muscle and lose some fat while doing it, F.A.S.T. is the class for you! Through building power and using good lifting techniques, your body will become stronger! With added HIIT (High Intensity Interval Training) at the end of each class, F.A.S.T. encompasses building lean muscle and fat burning after a hard strength training session.
$85 Members | $210 Non-Members
---
[Boot Camp] M/W/F | 5:30am and 9:00am | Fallon location
Get in shape with our intensive, results-oriented conditioning program that trains the entire body with calisthenics, cardio, and strength/endurance activities. All fitness levels are welcome!
---
[Coached Swim Hour] Ongoing | Mondays and Wednesdays from 6:30-7:30am
This coached swim program is FREE for Members and consists of workouts based upon skill level and endurance.  Particapants must be able to swim 5 lengths without stopping.
---
[TRIBE Team Training | Upcoming Seasons]
Season 7  |  2018
FREE* Trial Week: Monday, November 5th-Sunday, November 11th
Season 7: Monday, November 12th-Sunday, December 23rd
*Try TRIBE for this week for FREE! We will have Life, Fit and Core offerings available to try throughout the week, but space is limited. Stop by the service desk to sign up. This is a great way to see which format works best for you!