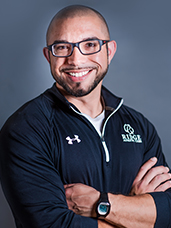 Fitness Director
406-586-1737 Ext. 109
ed@ridgeathletic.com
Certification & Education
ACSM-RCEP, EP-C, EIM 3, CEAS I
AHA BLS Instructor
M.S. in Exercise Physiology and Nutrition
B.S. inExercise Science/Pre-Physical Therapy
Welcome to Ridge Athletic Clubs. As Fitness Director, my role is to ensure that your experience at our club is exceptional. Often times, starting new habits or being in a new environment can be overwhelming and intimidating. However, the Ridge team is here to help you on your fitness journey.
Our team of Health and Fitness Professionals are capable of providing a wide variety of services to help you reach your desired outcomes. Each of our fitness staff has a genuine interest in helping you feel better, move better, and perform better. Whether it's designing a program to help you decrease weight, reduce your disease risk, improve physical conditioning, or improve your athletic ability, our team is prepared and exited to help you succeed.
At Ridge Athletic Clubs, we want you to thrive. On a daily basis, we endeavor to provide you with tools and opportunities to help you flourish, learn healthy habits, and develop life-lasting relationships. From the moment you walk through the doors, to the moment youl eave, we strive to provide you with experiences that are engaging, motivating,inspiring, and memorable.  We look forward to meeting you.
Best in Health,
Eddie Davila