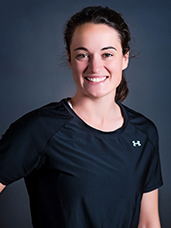 Celine Valentin
valentin.celine@gmail.com
Education and Certifications:
M.S. Exercise Science and Nutrition
US Soccer National D Coaching License
Wilderness Emergency Medical Technician
Certified Strength and Conditioning Specialist
---
I recently completed my Master's degree in Exercise Science and Nutrition, with a focus in exercise physiology and biomechanics. I aim to help athletes of all ability levels achieve their goals and using a functional/applied approach to training. Some of my specialities include working with sports teams; body composition, metabolic, and performance testing; bodyweight or free-weight strength training; and speed, agility, and quickness training.
I am currently working towards earning certification as an NSCA Certified Strength and Conditioning Specialist, ACSM Certified Exercise Physiologist, the Exercise is Medicine 1 credential, 
and my US Soccer National C coaching license. 
In my free time, I enjoy snowboarding, splitboarding, mountain biking, playing soccer, and hiking/fishing with my puppy. I also coach the varsity girls soccer team at Belgrade High School.